What is a phase converter?
You've come to a great place to Start…  How does a phase converter work and what size is most appropriate for my application?  These are the two most common questions asked.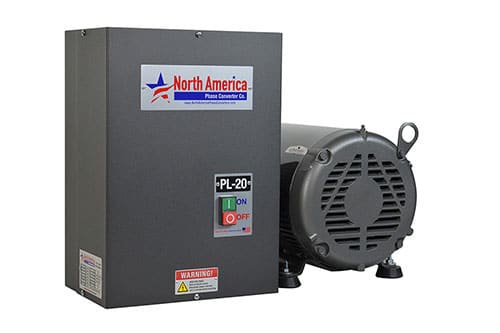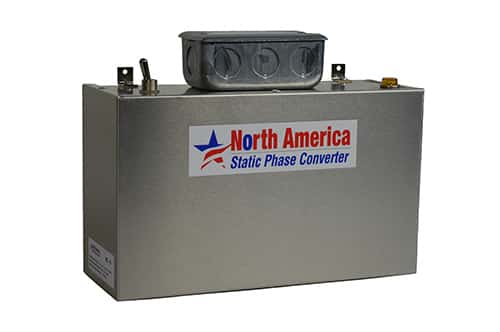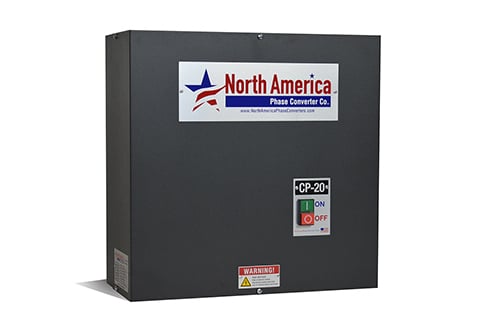 Phase Converters
Phase Conversion is the process of converting single phase power into 3 phase power.  A "phase converter" creates a third line of voltage (a third sine wave) allowing three phase power to be possible in a single phase environment.  NAPCco offers three styles of converters Rotary, Static and Digital.
Types of Phase Converters
About Rotary Phase Converters
A Rotary Phase Converter runs 3 phase equipment at Full Rated Power from a single-phase power source.
A rotary phase converter is the most popular and universal type of phase converter. The rotary phase converter consist of two components.  An "idler generator" and a "control panel".  The control panel includes a start circuit to start/stop the idler generator and capacitance to balance voltages between phases.  The idler generator is energized by the single phase power spinning a rotating mass.  This rotation generates a third line of power which is coupled with the 2 single phase line to make 3 phase power.
What will a rotary phase converter run?   A rotary converter will run every type of load (motor, resistive and inductive loads).
There are 3 types of rotary phase converters:
Standard Rotary Phase Converter

Pro-Line (PL) with digital start circuit

Digital Rotary Phase Converters

Smart-Boost™ (SB) with digital current boost mode
Smart-Phase™ (SP) with active digital voltage balancing

Rotary Converter Control Panels

CP (add your own idler motor)
Need help selecting and sizing the right rotary phase converter?
Call today (877) 545-2926
Try the sizing/selection tool 
The importance of properly sizing a rotary phase converter cannot be overstated. Proper sizing will insure years of trouble free performance for your equipment. If at any time you have questions about sizing a rotary phase converter, please call one of our application engineers at 877-545-2926. Note: You can never over size a phase converter; there are no minimum load requirements for a North America Rotary Phase Converter.
Standard Rotary Phase Converters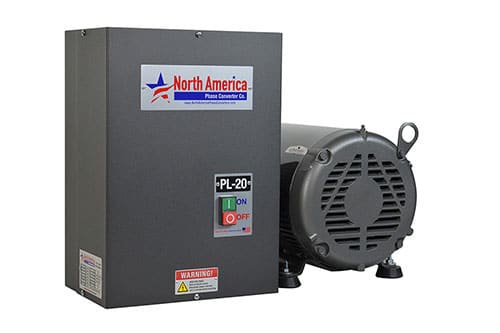 Pro-Line Rotary Phase Converters
Pro-Line Rotary Phase Converters are a general purpose "work horse" used to convert single phase power into 3 phase.  Pro-Line has a digital controlled and protected start circuit and uses a "generator/idler" and power factor correction capacitors to provide utility grade 3 phase power.
The Pro-Line Converter is an economical solution for all types of loads – motors, resistive, inductive and CNC.  Best for foodservice, woodworking and metalworking machine tools.
Digital Rotary Phase Converters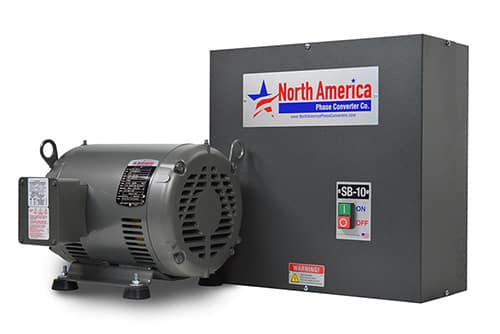 Smart-Boost™ Digital Rotary Phase Converters
Smart-Boost™ Digital Rotary Phase Converters are the perfect product for those hard starting / high inertia motor loads.  The Smart-Boost™ units uses a motor-generator and a solid state electronic controller to provide additional boost current to external motor loads.
The Smart-Boost™ Digital Phase Converters are ideal for pumps, blowers, fans and compressors.
Smart-Phase™ Digital Rotary Phase Converters
Smart-Phase™ is a digital rotary phase converters that are best suited for voltage sensitive machines and/or multiple loads running simultaneously.  It has the newest advancement in phase converters technology with 8 stage automatic voltage regulation (AVR).  Solid state switches are used to regulate the voltage and provide balanced voltage helping your equipment to run as efficient as possible.
Smart-Phase™ Digital Phase Converters are ideal for CNC machines, motors controlled by a VFD or equipment loaded with electronics.
Rotary Converter Control Panels "Add your 3 Phase Motor"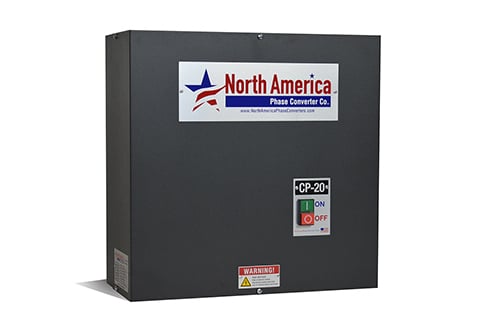 Rotary Phase Converter Control Panels
Rotary Phase Converter Control Panels are half of a rotary phase converter.  This is for the customer that has his/her own 3 phase motor to use as an idler motor.  The rotary phase control panel includes a motor starter, power factor correction capacitors and input and output terminal block connections.
About Static Phase Converters
Static Phase Converters run three-phase MOTORS from single -phase power at 2/3 the rated horsepower.
For MOTOR loads only
For Light and Moderate motor loads
About NAPCES Static Phase Converters
Static phase converters from North America Phase Converter Company (NAPCco) are masterfully engineered and manufactured for the 3 phase power needs of hobby and occasional use applications that don't require full power for their motor/equipment.  Recognized as a cost-effective alternative to other types of phase converters, our Made in America static converters can be easily mounted on or near your equipment and offers easy installation and wiring.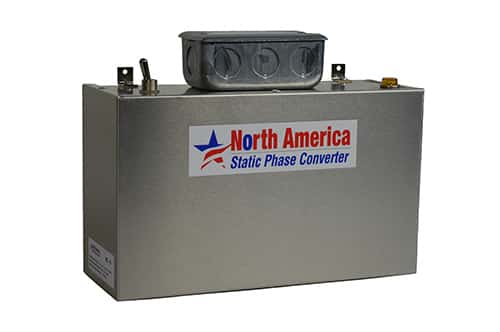 A static phase converter is used to generate 3 phase power during the starting of a motor.  A static phase converter consists of one or more start capacitors and a start relay.  The start capacitors produce electricity across the third winding of a motor during start up, once the motor is up to speed these capacitors are disconnected from the motor winding.  The motor load is now running on just the two single phase lines of power (in essence, the motor is single phasing).  NAPCco offers two types of static phase converters:  Standard Duty and High-Low Double Horsepower
Rotary Phase Converters
Static
"PL"Pro-Line
"SB" Smart-Boost
"SP" Smart-Phase
"CP" Pro-Line Control Panels
SPC and HL
Description
General Purpose, Good for Single and Multiple Loads
Current Booster, Better for Hard and Very Hard Starting Motor Loads
 Active 8 Stage Automated Voltage Regulation, Best for every type of load
Build your own Phase Converter. Add your idler motor to a CP Control Panel
For Motors only – will start light and medium motor loads
Recommended Loads
Mill, Tables Saw, Mixer, Ovens, Welders
Air Compressors, Pumps, Fans, Lathes
CNC Equipment, HVAC
Build your own by adding an idler generator
Light and Medium starting and running motors
Built in Starter
Yes
Yes
Yes
Yes
–
Booster Mode
–
Yes
Yes
–
–
Auto Voltage Regulation
–
–
Yes
–
–
Digital Controlled Start Circuit
Yes
Yes
Yes
Yes
Yes
Auto Controls Options
Yes
Yes
Yes
Yes
–
TEFC Idler Option
Yes
Yes
Yes
–
–
Outdoor Enclosure Option
Yes
Yes
Yes
Yes
–
480 Volt Input/Output
Yes
–
–
Yes
–
UL/cUL Option
Yes
Yes
Yes
Yes
–
American Made
Yes
Yes
Yes
Yes
Yes
Custom ABB/Baldor Generator
Yes
Yes
Yes
–
–
Paralleling Option
Yes
–
–
Yes
–
Models Available
3 to 100HP models
3 to 60HP models
5 to 40HP models
3 to 60HP models
1/3HP to 10
Pricing
$434 to $7249
$638 to $4582
$1295 to $4949
$209 to $895
$70 to $200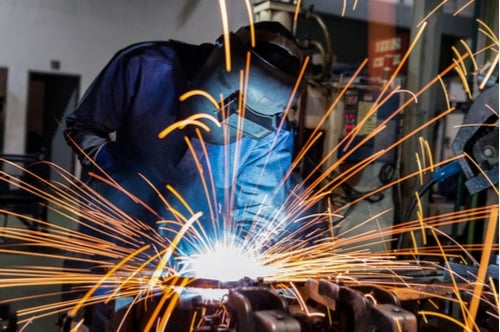 Mills, Lathes, CNC, Metal Forming, Metal Bending, Air-Compressors, Cranes, Hoists and Welders are great cost-effective applications for rotary phase conversion.   "Auto Controls" is helpful with air-compressors to only run when the air compressor needs air.  Wireless remote control is very helpful with a hoist and automotive welding operations where brief operation is needed then may not be used for several hours.  Simply Velcro or attach the key fab to the machine to improve key performance time and efficiency. 
CNC Vertical and Horizontal Machining Centers, Lathes, Mills, Press Brakes, Tube Bending, Shears and Iron Workers are well suited for an easy conversion into a shop, garage or manufacturing environments.  Gather the horsepower, amperage or kVA number off the side of the machines and call us (or email us)  and we will help you match the most appropriate converter for long term stable voltage balance and power.  NAPCco is a UL certified panel builder using reliable high performance digital conversion and components.  CNC's can be fickle and cutting corners on conversion is frustrating for everyone involved.  Machining is an area of accuracy.  The NAPCco converters are custom designed to run CNC, VFD's and voltage sensitive equipment.   This area is close to our heart because CNC equipment is what NAPCco does very well.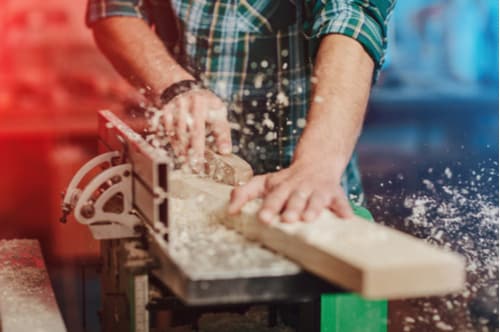 CNC Router Tables, Table Saws, Dust Collectors, Edge Banders, Wide Belt Sanders, Jointers, Planers and Molders are frequently used for small to large cabinet shops and hobbyist craftsmen.  Running multiple pieces of woodworking equipment at the operators convenience makes the rotary phase converters an excellent fit.   Consider growth in the case of woodworking.  Get assistance from the factory deciding what the expansion looks like so you can maximize your investment for future machines.  This is an area we often see several converters collected in a shop with a spaghetti network of power lines.   A bit of appropriate planning and a few extra dollars invested in the beginning will likely save considerable time and bottom-line value.  Also consider ordering your phase converter with a built in wireless remote receiver and several key fabs for fun and easy start/stop flexibility.  We have all these components in stock to build it into a reality for you.