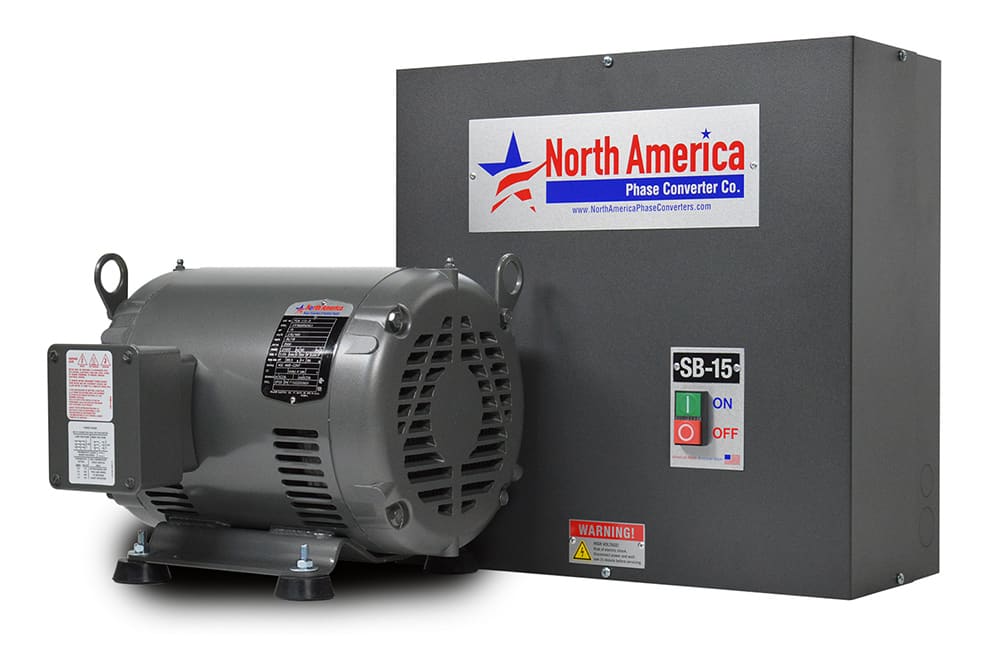 Smart-Boost™ Digital Rotary Phase Converters
Smart-Boost™ is a new breed of Digital Rotary Phase Converter. The Smart-Boost™ technology aids in the startup of motors external of the phase converter downstream. The Smart-Boost™ Controller uses solid state switching to re-engage the start capacitors at zero degree crossing. Which in turn, surges 600% more current to the motors during their startup.
Designed for: Air compressors, pumps, fans, blowers, large flywheels and any hard starting motor.
Control Panel Features
Smart-Boost™

Digital Controller
400% Motor Startng Booster Current
Motor Starter with Start/Stop Switch
Output Power Failure Protection
High Current Protective Coils
Power "ON" Indicator Light
Large Wiring Compartment
Power Factor Corrected
Made In the USA
Easy to Install
Idler Motor Features
Custom Made Phase Converter Generators
Manufactured by ABB / Baldor Electric USA
Vacuum Pressure Impregnation for all Windings
Shielded Windings and Sealed Bearings
Low Impedance/High-Efficiency Design
Custom Copper Windings and Rotor
Corrosion Resistant Paint
Quiet Delta Power
Made in the USA
Available Upgrades
NEMA 3R Outdoor Rated Enclosures
ULUnderwriters Laboratory Listings
Wireless Key Fab Remote Starter
Floor Mounting Kits
Automatic Controls
Power Time Delay
Plugs and Outlet
Smart Boost™ Model Comparison Chart
Notes:
All amperage in table reflect 208 to 250 volt usage
Pricing includes "Rotary Phase Converter Control Panel" and "Idler Generator"
Please contact us by phone (877.545.2926) or email ([email protected]) if you have any questions
Quick Sizing Guidelines for the Smart-Boost™ Rotary Phase Converters
Smart-Boost™ Model and Sizing Chart
Smart-Boost™ Rotary Converter Model
Motor Loads (Horsepower)
CNC, Resistive & Inductive Loads
Smart-Boost™ Rotary Converter Model
Easy
Med
Hard
Very Hard
Total Amps
Total kVA
Total kW
Spindle HP
SB-3
2
2
1.5
1.5
4
1.6
1.1
1.5
SB-3
SB-5
3
3
2.5
2.5
7
2.9
1.7
2.5
SB-5
SB-7
5
5
3
3
11
4.5
2.2
3
SB-7
SB-10
7.5
6
5
5
15
6
3.7
5
SB-10
SB-15
10
10
7.5
7.5
20
8
5.6
7.5
SB-15
SB-20
15
12
10
10
25
11
7.7
10
SB-20
SB-25
20
15
12.5
12.5
30
13
9.5
12
SB-25
SB-30
25
20
15
15
37
15
11.8
15
SB-30
SB-40
30
25
20
20
50
21
15.5
20
SB-40
SB-50
40
30
25
25
76
25
21.5
25
SB-50
SB-60
50
40
30
30
72
30
26.5
30
SB-60
Rotary Phase Converter Installation Video 
30 Second Video on "How to size a Rotary Phase Converter" 
Complete Details of Features
Smart-Boost™ Digital Controller
 Electronic Solid State Switching (no contacts)
120 Degree Pure Sine Wave
Zero Degree Capacitor Switching
Self-Protected Power Semi Conductors – SCR
Voltage Differential Technology
600% Motor Starting Boost Current
Provides high starting current for hard starting / high inertia loads
Active when digital rotary phase converter starts and for every external motor start
Allows for flying restarts
Synchronization of capacitors voltage when reconnecting start
Built-In Motor Starter
Integrated magnetic motor starter complete with on/off switch
Power "On" indicating light lets you know the phase converter is on from across the room
Raised off bottom for quick shut downs
Power/Phase Protection
In the event of a brown out or black out, the Smart-Boost™ Converters disconnects all three line of power.
Protecting your machines from single phasing.
Protecting everyone from any electrical shock downstream after the phase converter.
Easy Installation
Large wiring compartment
Removable sub panel design makes the enclosure light and easy to mount
Over-sized power distribution blocks are well marked and easily accessible
Punch out "Knock-Outs" on bottom and right sides of the enclosure
Important Extras
Oil and epoxy filled capacitors – no limit on the number of motor startups and can stay energized for long periods of time
High current protective coils – provides a layer of protection against voltage surges & fast transient short circuits
Large bleed resistors for extended capacitor life
Made in the USA by a UL 508A Certified Panel Builder located in Wisconsin
Custom designed Phase Converter Generator by ABB-Baldor USA
Built in America by ABB-Baldor USA
Built and designed to work with our Smart-Boost™ Controllers and as a phase converter
High Speed / Low Impedance Design – promotes a strong manufactured leg of power
Custom laminated winding design provides feedback to the Smart-Boost™ Controller