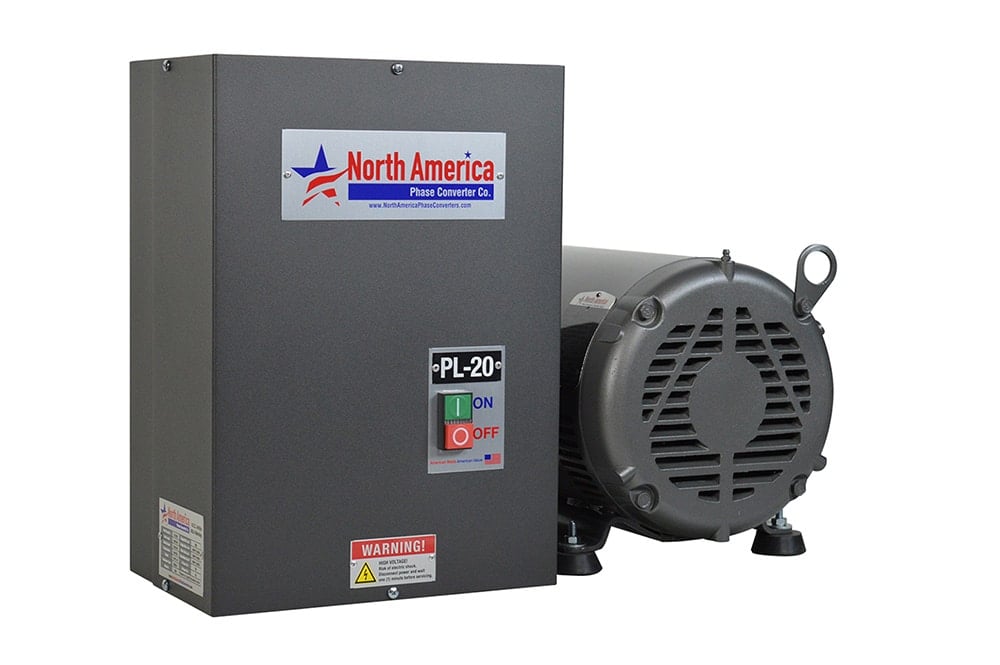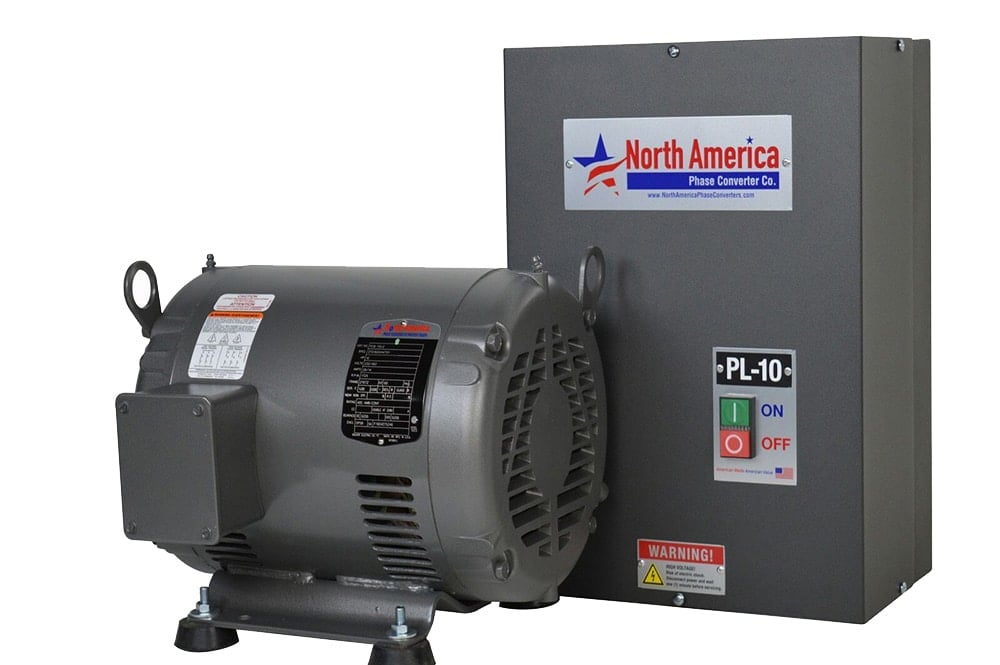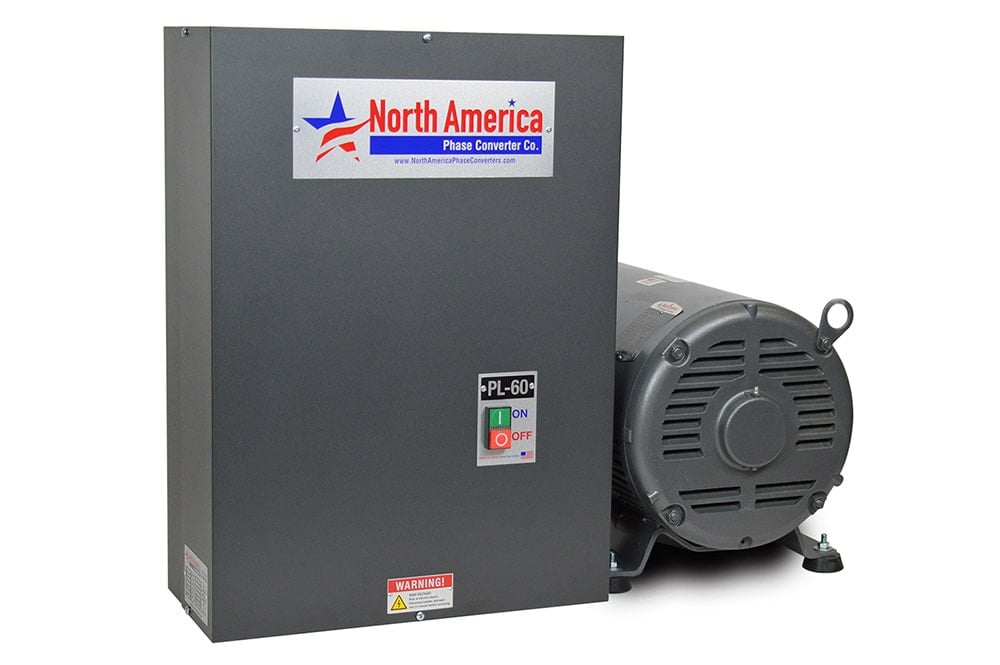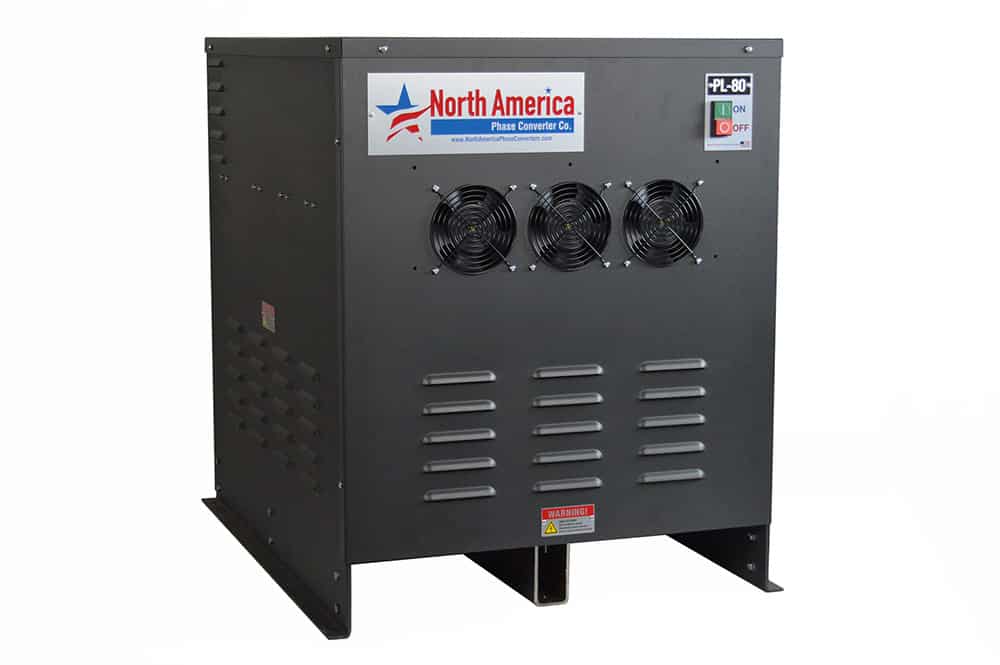 Pro-Line Rotary Phase Converters
CNC Rotary Balanced, by design!  PRO-LINE exceeds industry performance standards; powering sensitive modern CNC and traditional three phase equipment.  Pro-Line rotary phase converters for sale go further with efficient removable back plates, built in motor starter, digital start protection, soft start, full three line break; all with simple installation.  Reliability is important and supported with a 10 year warranty.   In true American form we design Pro-Line to work; everyday, for a very long time.
Do right by your equipment and feed it the balanced power Pro-Line is engineered to offer.
Best Applications: Mills, Lathes, Dough Mixers, Table saws, typical motors, resistive and inductive loads.  Join the NAPCES family and get back to work.
Control Panel Features
Built-In Motor Starter with Start/Stop Switch
Digitally Controlled & Protected Start Circuit
Complete Phase Power Failure Protection
CNC Voltage Balancing
Power "ON" Indicator Light
Easy Installation
Distribution Block Connections
Power Factor Corrected
Made In the USA
Lifetime Warranties
Idler Motor Features
Custom Made Rotary Phase Converter Generators
Low Impedance/High Efficiency Design
ODP (Indoor) Standard, TEFC (Weatherproof) Available
Custom Copper Windings and Rotor
Made by ABB / Baldor Electric USA
Made in America
Sealed Bearings
Soft Start 
Available Upgrades
UL Listed Control Panels
Wireless Remote Starter
Wired Remote Switches
480 Volt Control Panels
Floor Mounting Kits
Automatic Controls
Power Time Delays
Plugs and Outlets
Pro-Line Model Comparison Chart
Notes:
All amperage in table reflect 208 to 250 volt usage
Pricing includes "Rotary Phase Converter Control Panel" and "Idler Generator"
Please contact us by phone (877.545.2926) or email ([email protected]) if you have any questions
Quick Sizing Chart for Pro-Line Rotary Phase Converters 
Phase Converter Model
Motor Loads (Horsepower)
CNC, Resistive & Inductive Loads
Phase Converter Model
Easy
Med
Hard
Very Hard
Total Amps
Total kVA
Total kW
Spindle HP
 PL-3
2.5
2
1.5
1
4
1.6
1.1
1.5
PL-3
 PL-5
3
3
2
1.5
7
2.9
1.7
2.5
PL-5
 PL-7
5
5
3
2.5
11
4.5
2.2
3
PL-7
 PL-10
7.5
6
5
3
15
6
3.7
5
PL-10
 PL-15
10
7.5
6
5
20
8
5.6
7.5
PL-15
 PL-20
15
12
10
7.5
25
11
7.7
10
PL-20
 PL-25
20
15
12
10
30
13
9.5
12
PL-25
 PL-30
25
20
15
10
37
15
11.8
15
PL-30
 PL-40
30
25
20
15
50
21
15.5
20
PL-40
 PL-50
40
30
25
20
61
25
21.5
25
PL-50
 PL-60
50
40
30
25
72
30
26.5
30
PL-60
 PL-80
60
50
40
30
100
41
29.6
40
PL-80
PL-100
75
60
50
40
122
50
37.3
50
PL-100
Videos about Installation and using the Sizing Tables
Rotary Phase Converter Installation Video
30 Second Video on "How to size a Rotary Phase Converter"
Complete Details of Features
Built-In Motor Starter with Start/Stop Switch
• Self-contained built-in magnetic 3-phase motor starter
• Money saving feature because every rotary phase converter needs a starting mechanism
• Start/Stop switch ideally located on the front of the rotary phase converter control panel for easy access and where it should be
Digitally Controlled & Protected Start Circuit
• The latest in solid state technology
• Patented Differential Voltage Sensing
• Safety Timer – times out to eliminate capacitor failure
• Our Pro Line Rotary Phase Converters are the only phase converters where this technology is available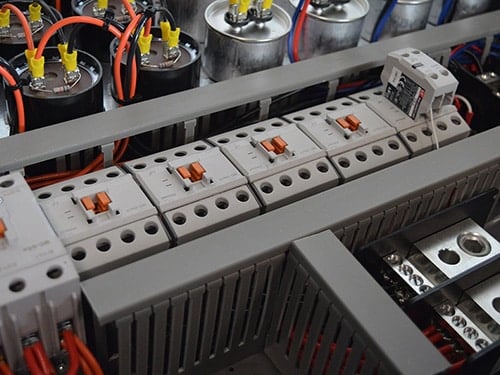 Complete Phase Power Failure Protection
• Built in protection protects the rotary phase converter and your equipment in the event of a power loss
• During a black out, the Pro-Line Rotary Phase Converter shuts down all 3 legs of power
• Some brands only shut down the generated leg and can cause single phasing when power resumes
CNC Voltage Balancing
• CNC Voltage Balancing allows you to run even the most sensitive machines
• Voltage balanced phase-to-phase to within 5% or better
• These Pro Line Rotary Phase Converters for sale offer the largest voltage balanced range on the market
Power "ON" Indicator Light
• Shops are a noisy place. This bright light on the front panel lets you know your Pro Line Rotary Phase Converter is up and running.
Easy Installation
• Removable back plate design makes the rotary phase converter control panel enclosure light and easy to install
• Terminal block connections make wiring a snap
• Knockout placements on on the bottom and right side allows easy wiring access
Power Distribution/Terminal Connection
• Simply strip, place and tighten wires
• Generously over-sized power distribution blocks make wiring a Pro Line Rotary Phase Converter a snap
Made In the USA
• Pro Line Rotary Phase Converters are proudly made in Wisconsin
• Built by a UL 508A Panel Shop (Not every panel is UL listed)
• Clean design makes for easy inspections
• Din rail mounted components and twist and release capacitors
Custom made Generators by ABB/Baldor USA
• Purpose built with Soft Start for low inrush starting
• Custom copper windings and rotor
• ISR magnetic Windings – Immune to Voltage Spikes
Low Impedance/High Efficiency Generator Design
• Designed to allow for the maximum current and voltage balance
• Low resistance produces high efficiency
• Built to run cool and quiet