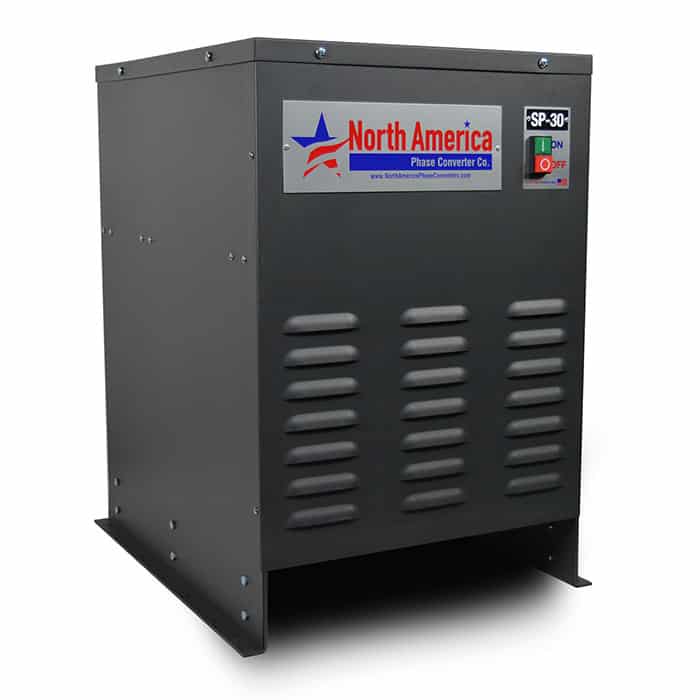 Smart-Phase™ Digital Rotary Phase Converters
Excellence in a box!  Smart-Phase™ is a highly engineered digital rotary converter with tight voltage balance control.   Best suited for ultra voltage sensitive machines, high performance machines and/or multiple loads running simultaneously.  Smart-Phase™ is the newest industry advancement in phase converter technology.   "AVR" is a 8 stage automatic voltage regulation.  Solid state switches are used to regulate the voltage and provide precision balancing across all three legs of power for your important equipment to run as efficient as possible. If you run the best, run a Smart-Phase™ digital rotary phase converter.
Ideal Applications: CNC Mills, CNC Lathes, motors controlled by a VFD or equipment loaded with electronics and critical voltage balance requirements.  Or if you just want great power.
Performance Panel Features
AVR

Active Digital Voltage Balance System
Complete Phase Power Failure Protection
Built-In Starter with Start/Stop Switch
Smart-Phase™ Digital Controller
600% Motor Starting Boost Current
Distribution Block Connections
CNC Voltage Balancing
Power "ON" Indicator Light
Lifetime Warranties
Made In the USA
Idler Motor Advancements
Custom Designed Digital Rotary Phase Converter Generators
Low Impedance/High Efficiency Design
Laminated Copper Windings and Rotor
Made by ABB / Baldor Electric USA
Made in North America
Sealed Bearings
Helpful Available Upgrades
Twist-Lock Plugs and Outlets
Outdoor Rated Enclosures
Wireless Remote Starters
UL Listing Options
Automatic Controls
Power Time Delays
Smart-Phase Model Comparison Chart
Notes:
All amperage in table reflect 208 to 250 volt usage
Pricing includes "Rotary Phase Converter Controls" and "Idler Generator" built into an "All-In-One Enclosure"
Please contact us by phone (877.545.2926) or email ([email protected]) if you have any questions
Rotary Phase Converter Installation Video
Rotary Phase Converter Installation Video
Complete Details of Features
Smart-Phase™ Digital Controller
Smart-Phase™ digital rotary phase converter uses the latest and most reliable advances in solid state technology

VDT™

Voltage Differential Technology (Monitoring and Balancing Phase to Phase Voltages)
Multi Stage Automatic Voltage Regulation (Maintains 2-3% voltage balance under all load conditions)
Zero crossing power switching devices generate three-phase power with high precision and efficiency
Adjustable voltage pick up and gap settings allows for the most precise power control
600% Motor Starting Boost Current
Smart-Phase™ digital rotary phase converter features a unique ability to detect starting motors and instantly supports them with boost current for fast motor acceleration
Uses high current (double rated) and high voltage (1600 volts)  SCR Switches for long life
Synchronizes the voltage when reconnecting the start capacitors
Allows for flying restart of motors
Employs self healing oil filled motor starting capacitors
New

AVR

Active Digital Voltage Balance System
Smart-Phase™ digital rotary phase converter holds industry advanced design matching today's modern demands of sensitive and multi load applications
AVR is the industries 1st and only automatic voltage regulation system available
Uses high current (double rates) and high voltage (1600 volts) Durable Solid State Switches
Synchronizes the voltages when re-engaging power
Employs self healing high voltage rated oil filled motor run capacitors
Universal "All-In-One" Enclosure
Available in NEMA 1 (Indoor) and NEMA 3R (Outdoor)
Flexible Mounting (Floor Mount with rubber mounting feet or on casters)
All Pre-Wired for ease of installation (2 wires in and 3 wires out)
Built-In Motor Start with On/Off Switch
Self-contained built-in magnetic motor starter included with this digital rotary phase converter
Money saving feature because every rotary phase converter needs a starting mechanism
Start/Stop switch ideally located on the front cover for easy access and where it should be
Digital / Electronic Motor Starting Relay
All NAPCco converters have a motor starting relay that is a digital/electronic phase converter. The patented differential voltage sensing circuit knows precisely when the motor is up to speed and when to disconnect the starting circuit. This is the same digital motor start relay used in our Pro Line Rotary Phase Converters. Additional built-in features include over-voltage protection and safety time out.
Custom designed phase converter generator by ABB / Baldor USA
Purpose built to work with the Smart-Phase™ Digital controller
Low Impedance Design promotes a strong generated line of power for precise voltage balance
Custom winding designed to provide greater then 96% efficiency and have very little standby losses
Build in the USA by ABB / Baldor USA
Made In the USA
Smart-Phase™ Digital Rotary Phase Converters are proudly made in Wisconsin
Built by a UL 508A Panel Shop(Not every panel is UL listed)
Clean design makes for easy inspections
Din rail mounted components and twist and release capacitors