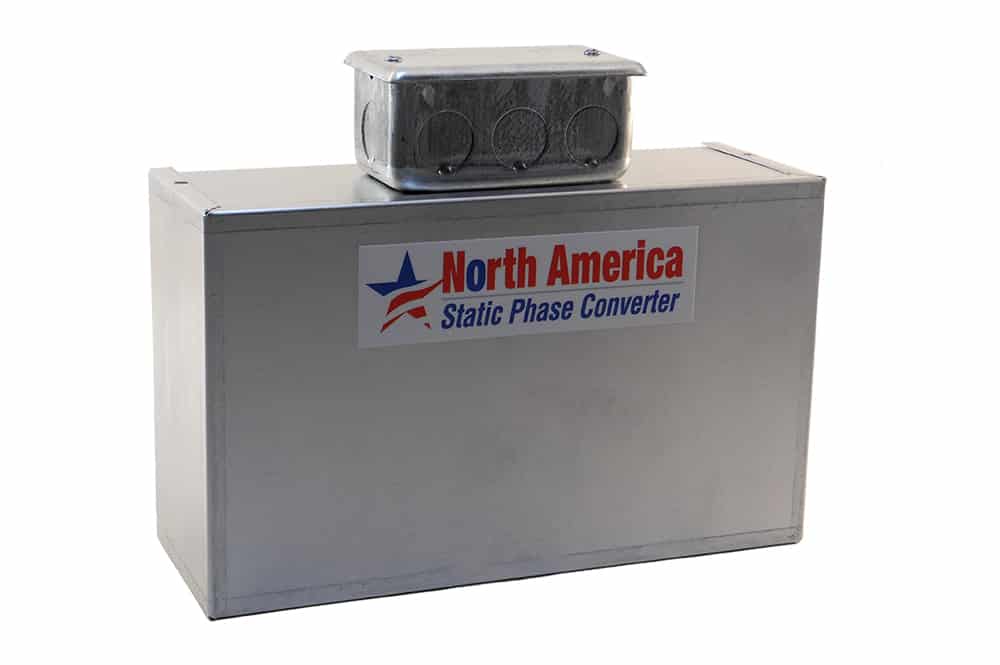 Static Phase Converters
A static phase converter is used to generate 3 phase power during the starting of a motor.  A static phase converter consists of one or more start capacitors and a start relay.  The start capacitors produce electricity across the third winding of a motor during start up, once the motor is up to speed these capacitors are disconnected from the motor winding.  The motor load is now running on just the two single phase lines of power (in essence, the motor is single phasing).  There is at least a 1/3 power loss of the motor horsepower.
Designed for:  Light and medium starting and running motors.
Standard (SPC) Static Converters
The Standard Heavy-Duty (SPC) is a standard static phase converter with "classic" horsepower ranges.  Designed and build to start and run motors at 2/3 power.  Intended for use with light and medium motor loads.
High-Low (HL) Static Converters
The High-Low (HL) Static Phase Converter is a "two in one" unit.   The High-Low models incorporate 2 horsepower ranges.  A toggle switch on top of the enclosures allows you to select between the high or low horsepower settings.
Do Not Use with…
Pumps
Heaters
Welders
CNC Machines
Plasma Cutters
Fans & Blowers
Large Flywheels
Motors Pre-1965
Air Compressors
Two Speed Motors
Refrigeration Trucks
Static Phase Comparison Chart
Note:
For motor loads only
Runs light and medium motor loads at 2/3 power
Size static converter within horsepower range on converter model
Do not use a static phase converter with the following applications: welders, heaters, two speed motors, air compressors, pumps, fans, CNC machines, plasma cutters, refrigeration trucks, blowers, large flywheels, large lathes and motors older than 1965.
Complete Details of Features
Standard Heavy-Duty and High-Low Double Horsepower Rated
NAPCco offers two different static phase converter models to choose from.  Our Standard Heavy Duty (SPC) is a robust static phase converter and has your classic horsepower ranges.  Our High-Low Double Horsepower Rated (HL) models are two (2) Standard Heavy-Duty Static Phase Converters built into one.  The HL model has a high and low horsepower range setting.  The setting is easily selected by a toggle switch on the front cover of the unit.
Runs most motors at two-thirds power
A static phase converter uses motor start capacitors to start a 3 phase motor on single phase power. These capacitors are disconnected once the motor reaches full RPM. The motor continues to run on the 2 single phase lines of power. Two-thirds of the motor windings are being energized, producing approximately two-thirds of the motors power.
Easily accessible wiring junction box
Top mount junction boxes are easily accessible, making wiring a snap and can be completed in minutes.
Universal mounting options
Our static phase converters include hanging brackets that allow for wall or machine mounting.
High Voltage Rated Start Capacitors (330V)
High voltage rated start capacitors can withstand higher surges of voltage without failure. The capacitors are also mounted with bleed resistors to help discharge heat and voltage in the capacitors. These resistors help extend the life of the components.
Digital / Electronic Motor Starting Relay
All NAPCco converters have a motor starting relay that is a digital/electronic phase converter. The patented differential voltage sensing circuit knows precisely when the motor is up to speed and when to disconnect the starting circuit.  This is the same digital motor start relay used in our Pro Line Rotary Phase Converters.  Additional built-in features include over-voltage protection and safety time out.
Robust Start Circuit
Heavy duty relays and contactors are used to tolerate the high amperage flow during start up. We use enlarged components because we want this unit to last as long as your machine does.
Easy Installation